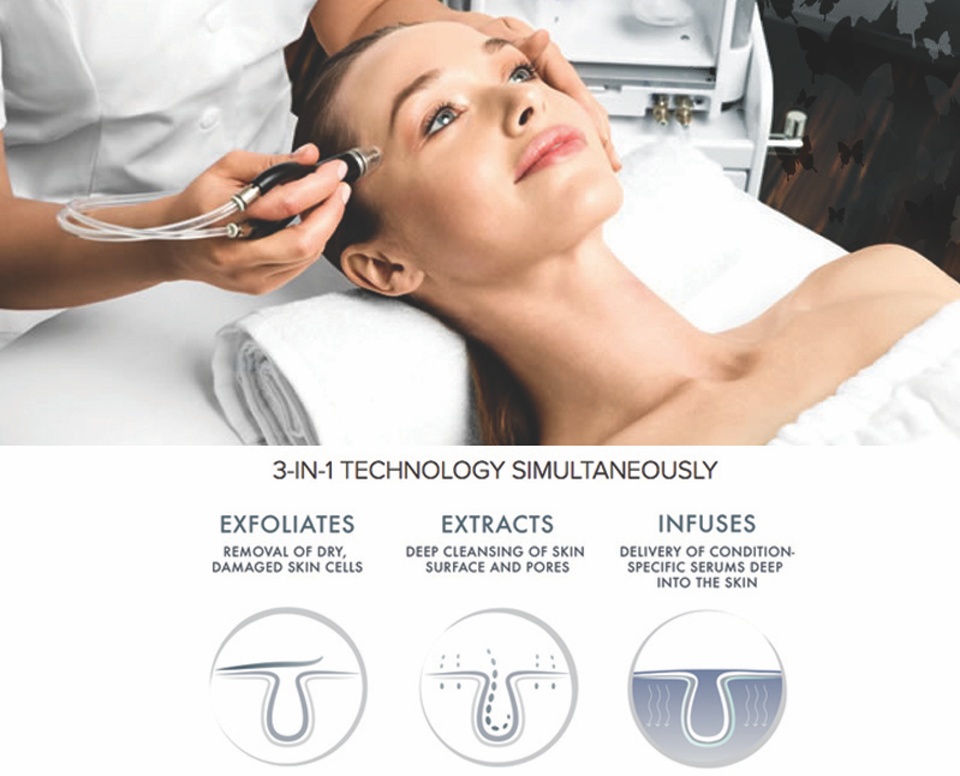 Silkpeel
Microdermabrasion, while not a new cosmetic technique, is definitely one of the most popular cosmetic treatments. Microdermabrasion is basically the use of a special device to remove the top layer of skin so that the underlying new skin is revealed.
SilkPeel DermalInfusion is a new type of microdermabrasion technology. This non-invasive treatment is different from the microdermabrasion technology that relied on crystal particles in the past. The SilkPeel DermalInfusion instrument uses a diamond tip to perform a uniform microdermabrasion, which can simultaneously introduce a special skin care essence into the skin while exfoliating.
What is the treatment process like?
Your therapist will first remove your makeup and cleanse your skin, then use a specially designed device to evenly scrub back and forth across your face and neck. Each microdermabrasion exfoliates and introduces skincare essence into your skin. The process generally takes no more than an hour, and the skin becomes radiant, smoother and healthier. The effect can last up to several weeks.

Am I suitable for this treatment?
This treatment is for you if you have:
· Uneven skin tone; dark spots or skin dullness
· Cystic or pustular acne
· Dehydrated skin and fine lines
· Dull, tired skin
Your therapist will choose a special serum that will effectively improve your skin problems. Unlike topical creams or beauty products, SilkPeel uses special appliances to direct vitamins, antioxidants and other medicinal ingredients deep into the skin for optimal results.

Will I feel pain during treatment? How long is the recovery period?
The treatment process is very comfortable and does not feel any pain. No need for any anesthetics or pain relievers. There is also no recovery period, and can be treated during a lunch break and return to daily activities afterward.

In addition to the skin of the face, what areas of the body can SilkPeel be used to treat?
In addition to the face, this treatment can also be used on the lips, hands, feet, neck, chest, back and shoulders. It improves stretch marks, orange peel, acne and other skin blemishes. SilkPeel diamond dermabrasion, which has been clinically proven to be effective, can be used alone or in conjunction with other treatments such as lasers to achieve better results.